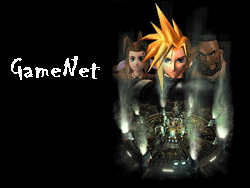 News
If you want to get the scoop on what's new on my website, check out the News Archive page. The News Archive page has all the stuff that's too old to be on this page. This is an archive of what's really new:
April 8, 2002: NOTICE: WE HAVE MOVED AGAIN TO http://game-net.netfirms.com. If you would wish to see the updated site, please go there.
April 1, 2002
New Forums are up! The link on the bar on the left is changed and is now directed to the new forums. Please join the forums and post. If you were a previous member, it is reccomended that you rejoin the new GameNet Forums. Also, It seems like the perfect sidebar isn't here yet. I am working hard and I think this one is just fine.
March 24, '02
Sometimes people do get a little tired of the same sidebar, so welcome the all new sidebar! I hope this is a good layout now; since it may not be a while since that will be changed. I will strive to work harder on the content of the website now.
March 19, '02
Well, I figured it is better to keep the looks of a site good, so say hello to a cool new banner! Also, you may notice some background music changes.
February 23, '02
Oh yeah, new banner is up! Whaddaya think of it??
January 22, '02
GameNet is under construcion. Even though we are a little messy, you can wonder around orderly. We'll post up the news when we finsih! Expect no more but a week delay!
January 10, '02
New Reviews are up! They are Jet Set Radio Future, Tekken 4, Destrega and Crazy Taxi!
December 12, '01
I am almost sure that our visitors like our midis, so now I put them up in the Midi Section! Enjoy!
December 9, '01
All new site! GameNet! I made this new since I needed to focus on one topic. No need to worry, my other site will still be up.
E-Mailing Me!
If you got interested in my web page, please feel free to e-mail me at sdcoolskater@yahoo.com. I can check this e-mail account from anywhere, so don't worry. If you want to put some content on my website on your website, please e-mail me. I will be glad to send you what you needed and a banner for my page.
Check The Stats
visitors have came to GameNet as of today.

Countdowns
There are only days until June!